Elevating Your Style, One Step at a Time
Wearing loafers has long been a fashion staple, celebrated for their timeless elegance and effortless versatility. Whether you're dressing up for a formal event or embracing a casual day out, loafers can be your go-to footwear this Autumn/Winter Season. Yet, in the world of women's fashion, one often-overlooked detail can make a significant difference: the choice of socks for loafers. The socks you pair with your loafers can either enhance or detract from your overall style. In this comprehensive guide, we'll explore the art of wearing socks for loafers, dissecting materials, styles, outfit coordination, and personal expression. Get ready to step up your socks with loafers game!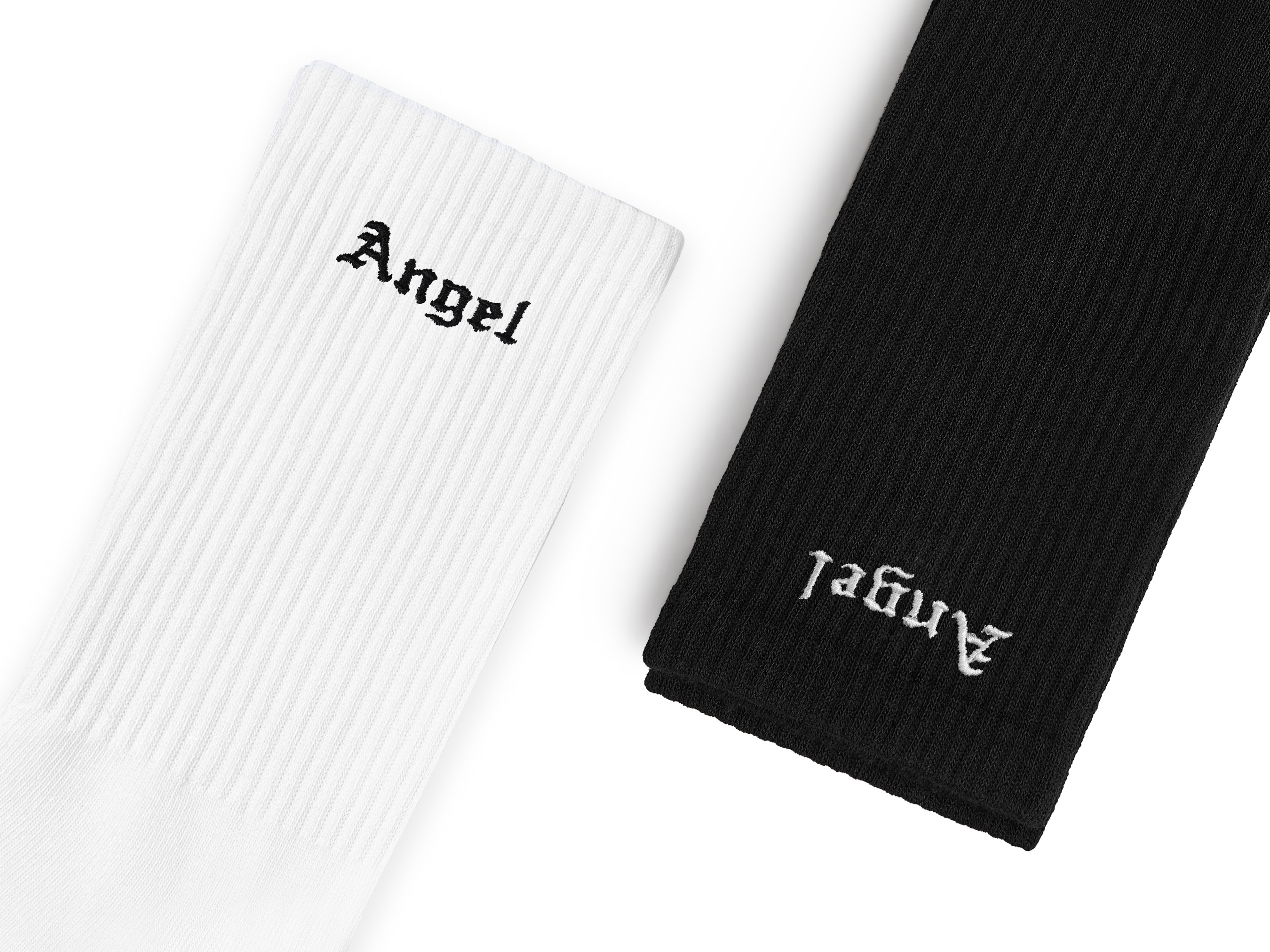 The Foundation of Comfort
The journey to selecting the perfect socks for styling loafers begins with a crucial consideration: material. The type of socks you choose profoundly impacts how feet feel comfortable throughout the day. Let's start with classic cotton crew socks. Known for their breathability and softness, while keeping feet warm, they are an ideal choice for casual loafers. Imagine those trusty brown loafers, suede loafers, or leather loafers you slip into for elegant outings; cotton crew socks are a perfect match.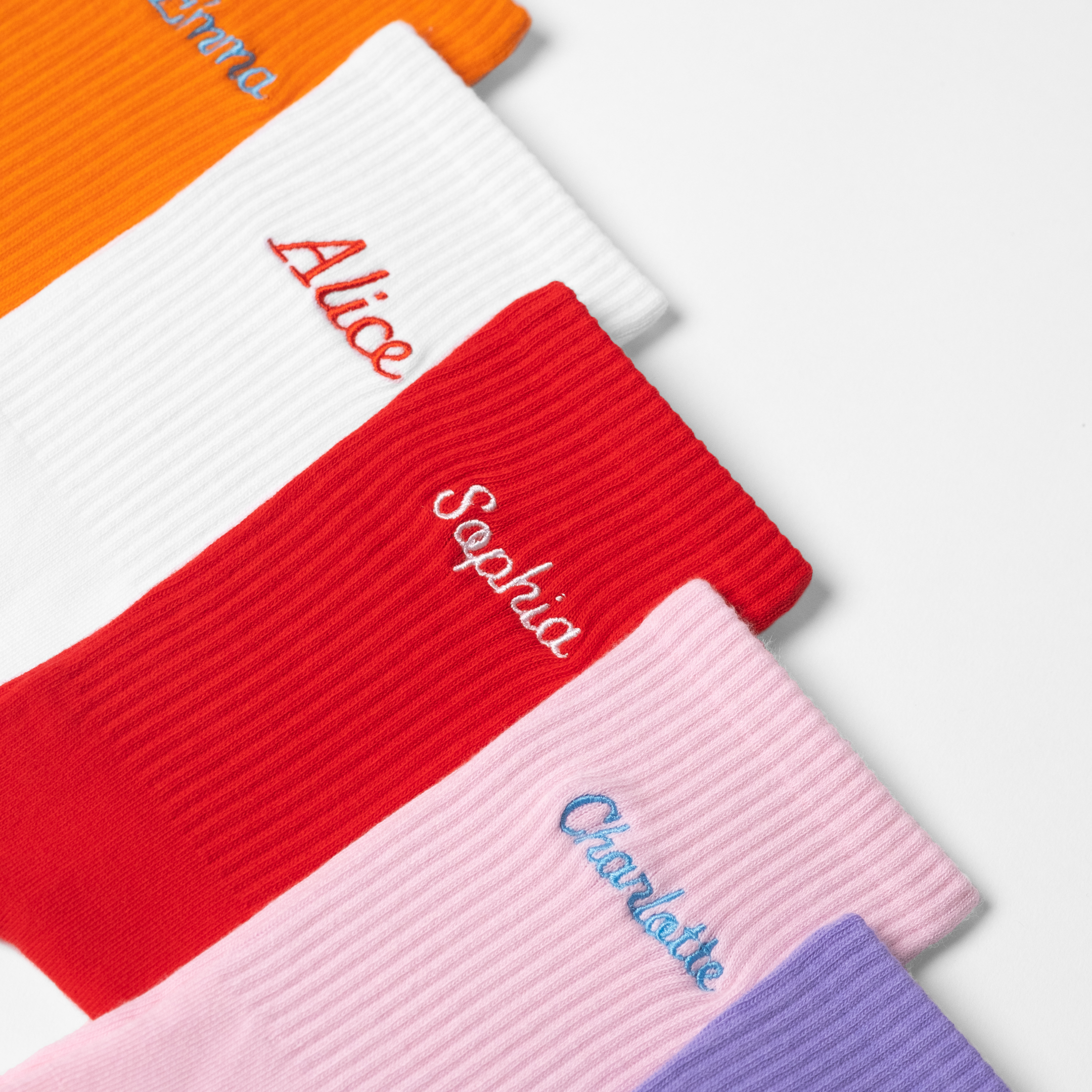 A Pop of Personality with Coloured Crew Socks
For those women looking to inject a burst of personality into their socks with loafers ensemble, worn casually or as a statement, coloured crew socks are the perfect choice. These vibrant, eye-catching socks provide an opportunity to express your unique style and make a bold statement. Pair a classic pair of leather loafers with striking, complementary-coloured crew socks to instantly elevate your look. Whether it's a rich red, a playful pink, or a daring green, coloured crew socks add a fun and fashionable twist to your outfit, making your loafers stand out even more. It's all about embracing contrast and showing the world your distinctive flair, one step at a time.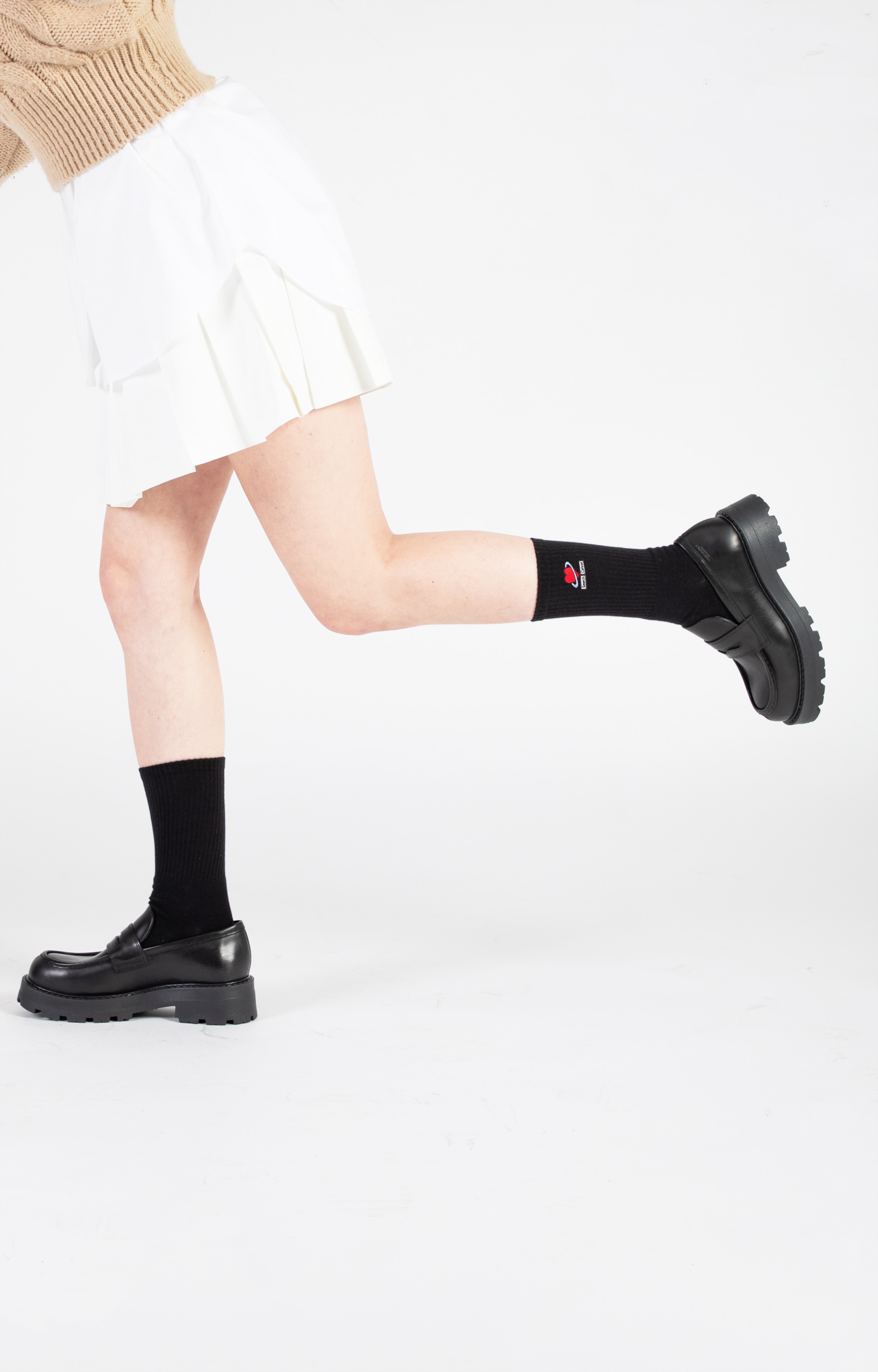 Elevate Minimalism
While vibrant colours can make a statement, there's a special allure in simplicity. Consider the timeless elegance of plain black socks and plain white socks adorned with delicate embroidered designs. These subtle yet sophisticated details add a touch of refinement to wearing loafers. Whether it's intricate floral patterns or dainty motifs, these embroidered crew socks infuse a sense of understated charm into your look. Paired with classic leather loafers, they strike the perfect balance between minimalism and sophistication, allowing your footwear to take center stage while adding a touch of personalised style. These versatile options effortlessly blend with various loafers - from penny loafers to suede loafers, creating a polished, refined look.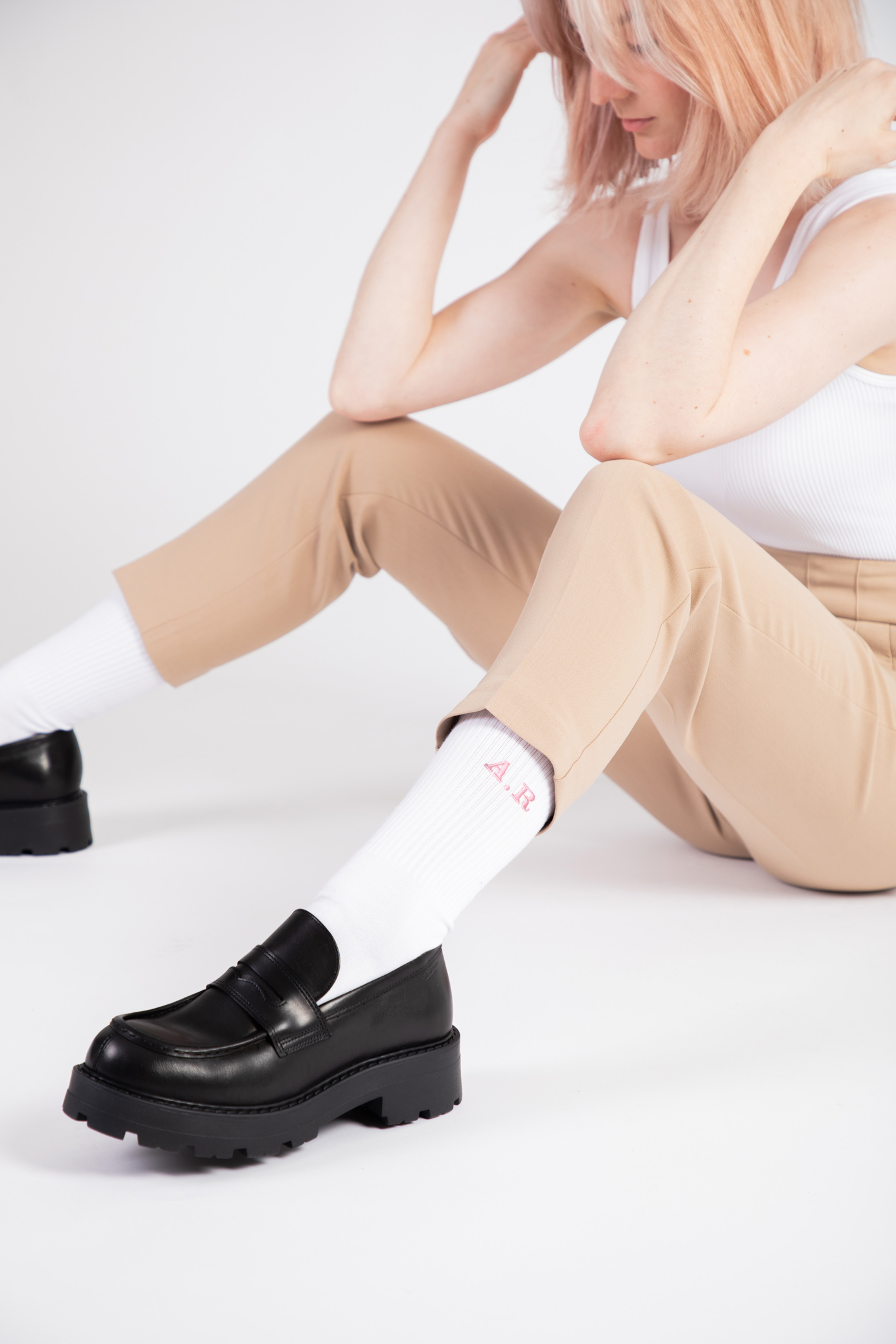 PersonaliSed Elegance with Custom Embroidered Crew Socks
For a truly unique and personalised touch to wearing loafers, custom name embroidered crew socks are an exquisite choice. These socks blend the classic charm of crew socks with the elegance of personalized embroidery. Imagine stepping into your favourite loafers adorned with your name or a special message delicately stitched onto the socks. It's not just a statement; it's a celebration of individuality. Custom name embroidered crew socks are a perfect way to make your mark in style, ensuring your loafers with socks look is not just fashionable but uniquely yours.
Unveiling Effortless Chic
Picture this: you're dressed in your favourite denim jeans, a trench coat draped elegantly over your shoulders, and you wear a pair of sleek leather loafer shoes on your feet. Now, what could elevate this ensemble further? The answer lies in your choice of crew socks. Opt for a pair that complements the colour scheme of your outfit—perhaps a subtle black or white crew sock for a seamless blend or even a contrasting colour to make a statement. With the added touch of crew socks, your jeans and trench coat ensemble effortlessly transitions from casual to sophisticated. It's a versatile, timeless look that beautifully marries comfort and style, proving once again that loafers and crew socks are the epitome of modern synergy.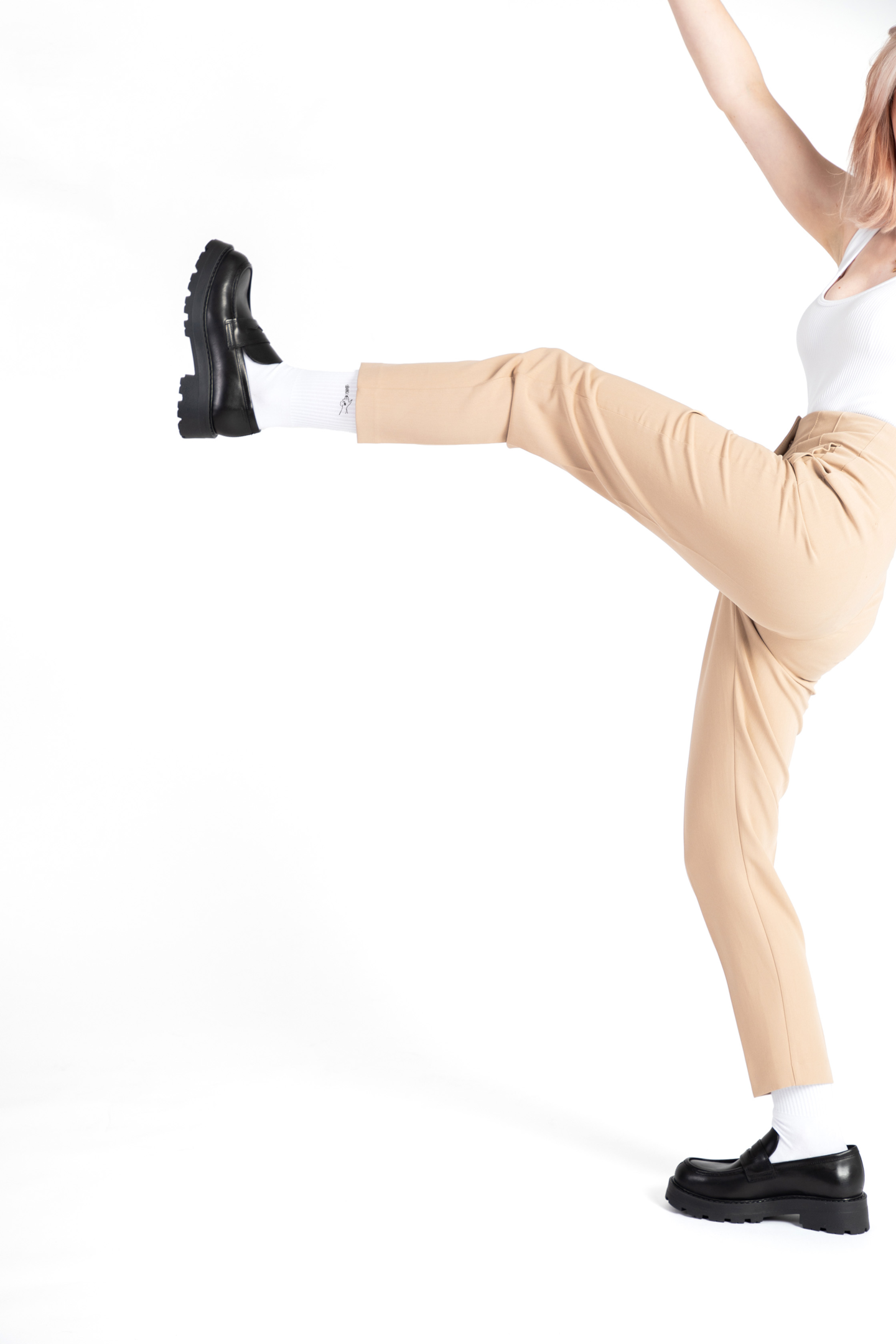 The Feel-Good Factor
Comfort, beyond style considerations, remains paramount. Leather loafers are beloved for their slip-on convenience, and your socks should enhance this comfort for your feet. Ensure your socks not only make a statement but also guarantee lasting comfort, even during extended wear. Look for options that offer ample cushioning and incorporate moisture-wicking properties to combat discomfort and sweat. The hallmark of a well-chosen sock is its ability to meld seamlessly with your loafers, allowing you to navigate your day with ease and confidence.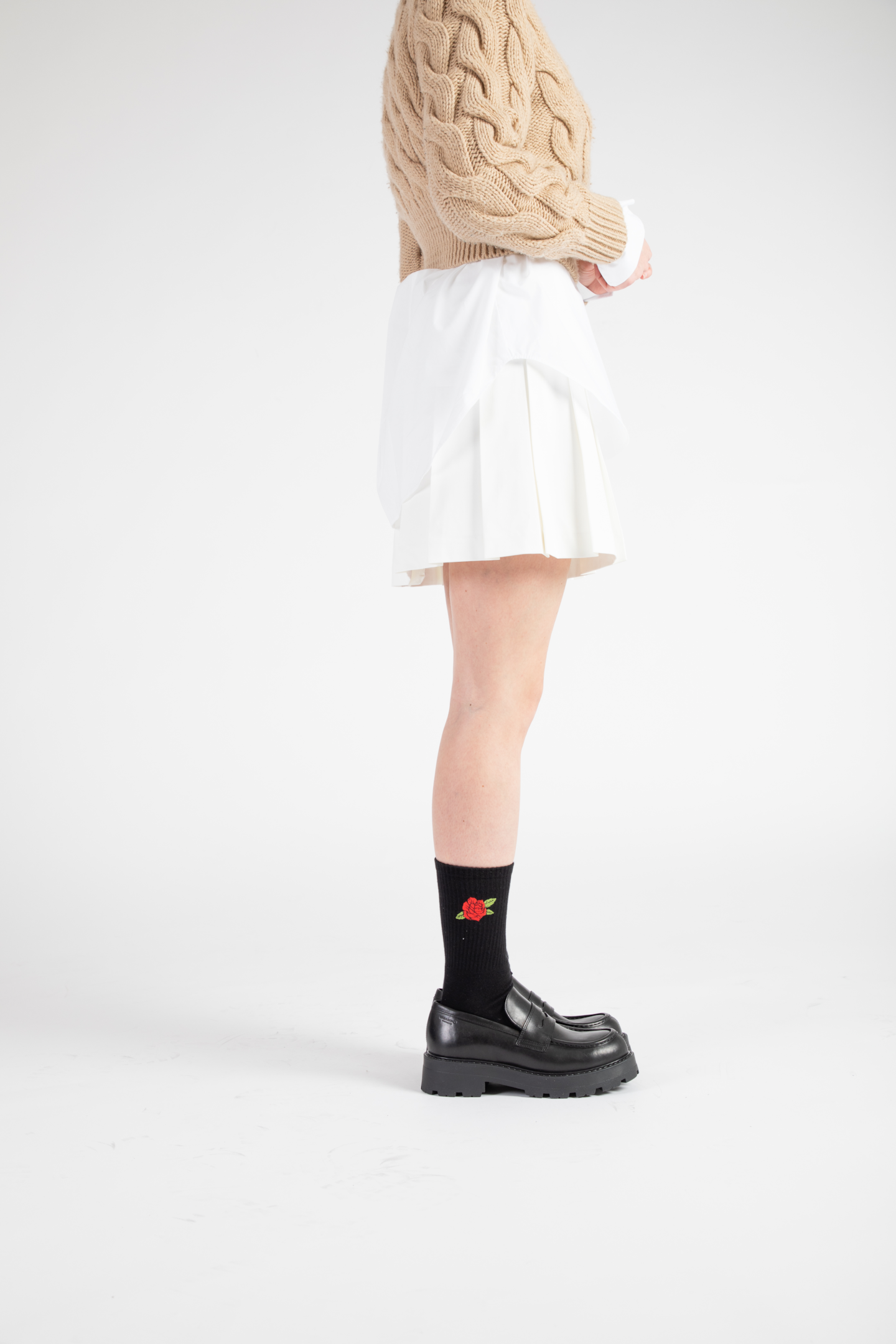 Crafting a Harmonious Ensemble
To wear socks with your loafers isn't an isolated decision; it's a crucial aspect of outfit coordination. The objective is to create a harmonious ensemble where your socks, loafers, and overall outfit interact synergistically to convey your intended style. If you're aiming for a casually chic look, consider wearing socks with cropped jeans, chinos or trousers with tassel loafers. This combination infuses a sense of laid-back elegance into your attire. Conversely, for formal occasions, a skirt or a dress are versatile choices. In this setting, loafers work best with form-fitting clothing–we're talking slim, modern, and tapered fits. This look harmonises seamlessly with penny loafers, elevating your appearance with a classic sophistication befitting a formal event.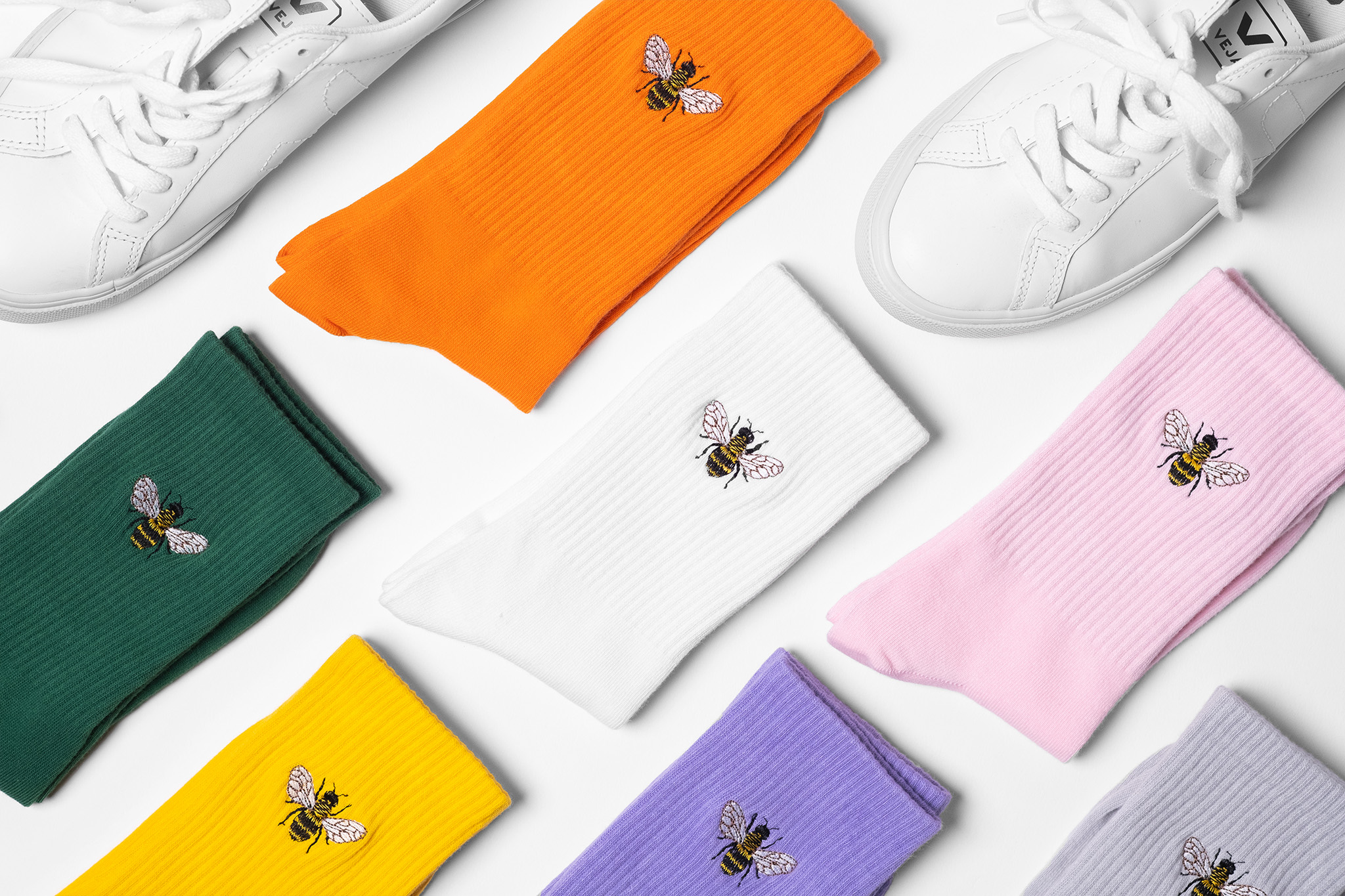 Celebrating Individuality
While trend guidelines provide valuable insights, your personal style should remain the guiding star. The choice of socks for your loafers should mirror your unique tastes and amplify your confidence. Trust your instincts, and fearlessly experiment with different styles and colours until you discover combinations that resonate with your personality and enhance your wardrobe. The most stylish women are those who unapologetically embrace their uniqueness and allow their stylistic choices to articulate their true selves. This confidence radiates, transforming any sock-and-loafer combination into a statement that speaks volumes about you.

Cultivating Your Sock Collection
To assemble a versatile sock collection for your loafers, consider stocking up on a few pairs in classic colours—timeless black and pristine white.. These neutral hues form the foundation of most outfits and are perfect for achieving a refined, ageless look. Additionally, invest in eye-catching socks featuring vibrant colors, playful patterns, or distinctive textures. These statement socks shine when you want to infuse flair into your outfits on special occasions or make an unforgettable impression.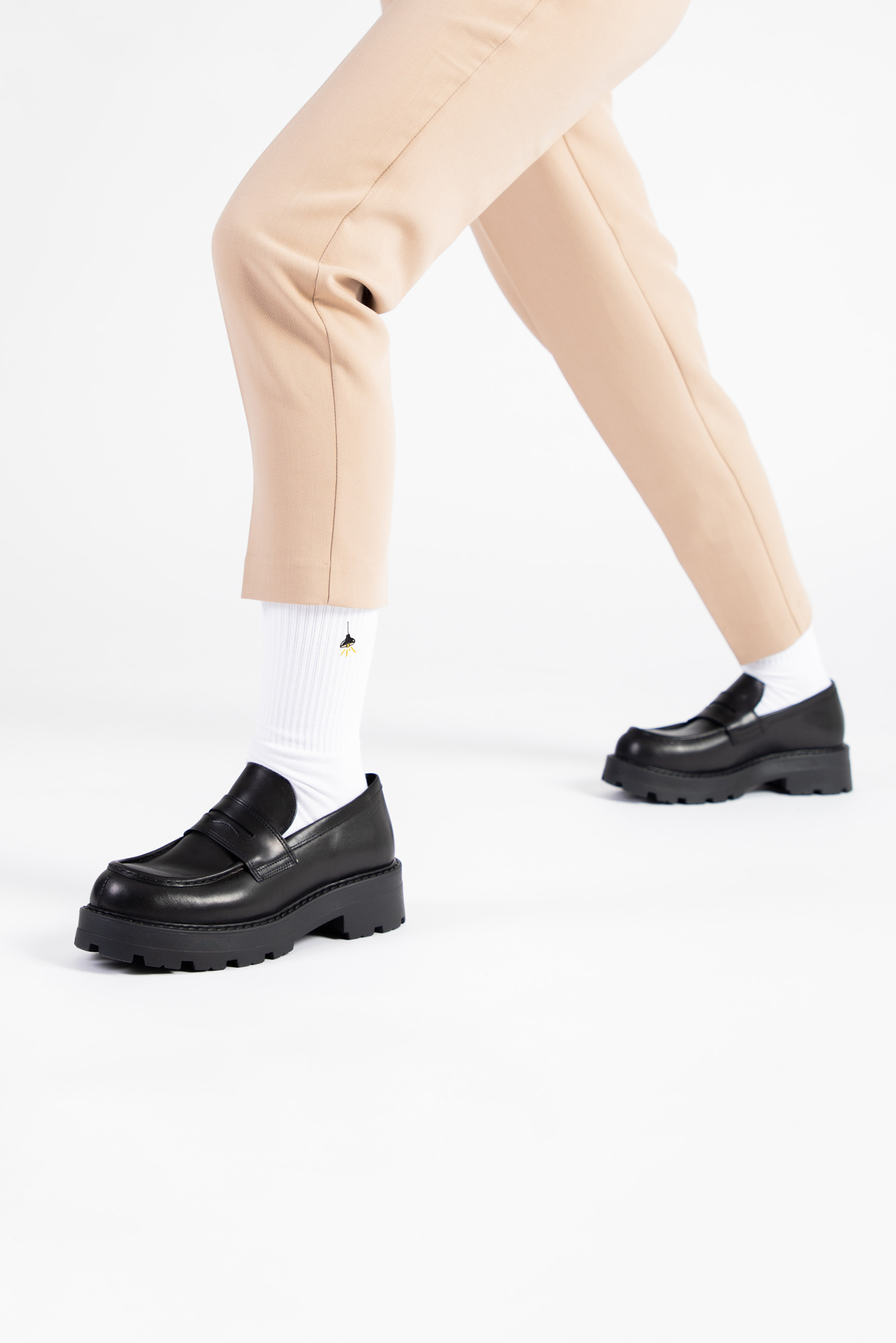 Mastering the Art of Socks and Loafers
The art of choosing socks for women's loafers is a subtle yet pivotal facet of style that elevates your game. Whether you opt for classic cotton ankle socks for a casual outing or select refined mid-calf socks for a formal event, the key lies in finding the delicate equilibrium between practicality and style. Loafers epitomise timeless, chic footwear, and with the right socks, you have the power to craft a statement that mirrors your personal style. Step into your loafers with unwavering confidence, knowing that you have mastered the art of pairing them with the perfect socks, and that your styling choices embody the unique, stylish woman you are.